AirBoy Nano4 - the most sustainable start to e-commerce
Different film types and cushion types can be processed on the fastest small air cushioning machine AirBoy nano4, giving you the best flexibility for your goods dispatch even with low throughput.
Different film types can be processed on our efficient AirBoy Nano4, giving you the best flexibility for your goods dispatch even with low throughput.

AirBoy Nano4
Fastest small machine on the market

AirWave Standard and AirWave Bio (home-compostable) cushion film available.

4 speed modes 4 / 6 / 8 / 10 m per min

No heat-up phase - air cushions can be produced immediately

Easy exchange of transport belts

Production of extremely tight air cushions possible without compressor

Ideal for small packing stations for air cushion production on demand

Start/stop at the touch of a button

Variable timer for air cushion production

Variable sealing temperature, air volume

Compatible with narrow air cushion chains

Compatible with wide air cushion mats

Supplied with instructions, power cord, 2 spare PTFE bands and spare blade

Compatible with narrow air paper cushion filler (type 9.7.1)

Compatible with wide air paper cushion wrapper (type 9.8.3)

Compatible with wide paper air cushion wrapper (type 9.8.6)
Sending packaged goods safely and protecting the environment at the same time: You first have to manage this balancing act. The FSC-certified paper air cushions PaperWave® achieve that and even ensure perfect scores with its outstanding environmental balance. It dissolves completely in water and can be disposed of in waste paper or with composting material.

Easy disposal by the consumer
PaperWave® has a very thin seal layer made of a starch based compostable film, which has been confirmed not to affect the recyclability of the paper. The product is recycable by pulping. The product bears the RESY mark as well as the sorting-aid-symbol 22PAP according to DIN 6120. The PaperWave Bio has been certified by the Paper Technology Foundation in Munich (PTS) as recyclable and thus as freely disposable via waste paper.This makes it very easy for the consumer to decide on the correct recycling bin at disposal. The material is compostable and even degrades in water when mistakenly ending there.
Modern technology enables recycling of air cushions
With today's repulping technology, the paper and sealant layer will be separated during the recycling process.This enables the new Paper-Wave® air cushion film to be recycled with the normal wastepaper or the bio-compostable waste.
Type 9.7.1 AirWave PaperWave Bio AirBoy Nano3/4 cushion filler.
210mm wide Type 9.7.1 air cushion film for the AirBoy nano3/4 - 210x100mmx140m.(2 Rolls/ctn)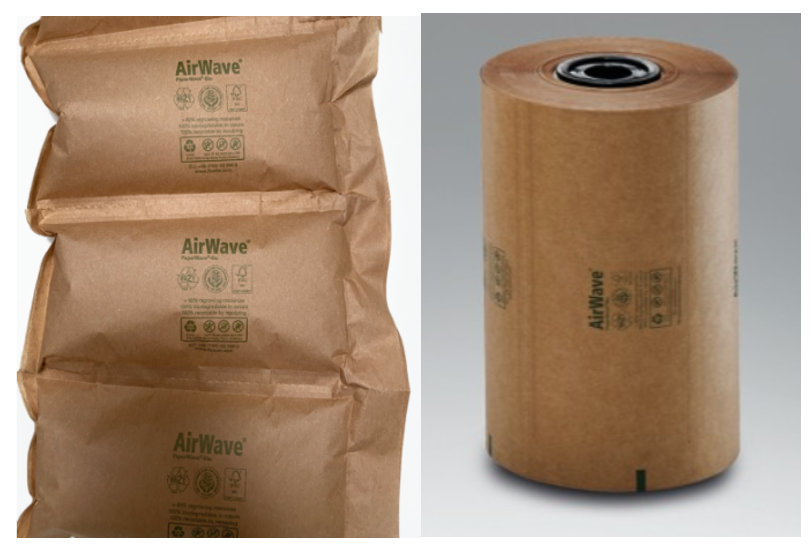 AirWave PaperWave Bio Typ 9.8.3 air cushion wrapper
AirWave PaperWave Bio air cushionis made of 100%recycled paper. A clear statement on sustainability. 420mm x 320mm x90m (1 Roll/Ctn)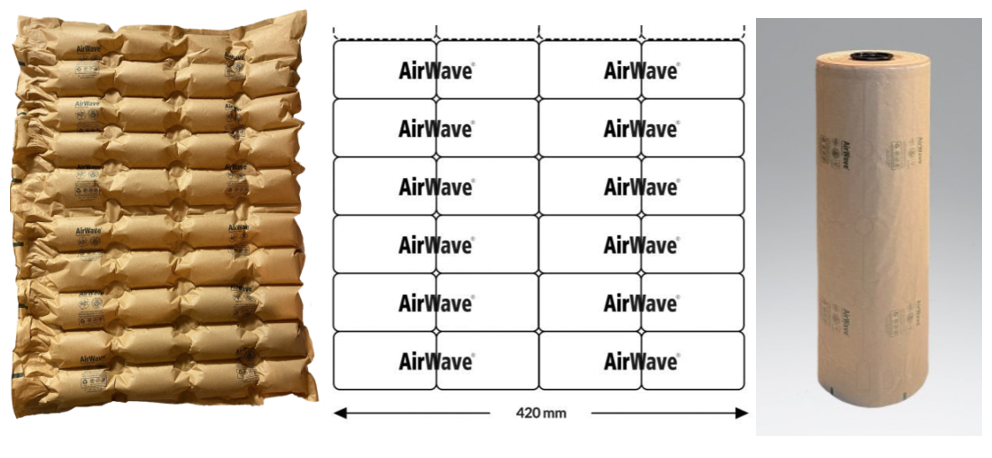 With FLOETER's AirWave PaperWave you get a biodegradable solution that safely protects your packaged goods. The air cushion is made of 100% recycled paper (regrowing raw materials), the wafer-thin home compostable sealing layer has no negative impact on the recyclability. The product bears the RESY symbol, the sorting aid symbol according to DIN 6120 facilitates allocation to the recycling bin.
Total thickness 50µm

For lighter packaged goods

Perforated for easy separation

Made in Germany
Please contact the WPS Team to discuss your requirements.
(409330)
Be The First To Review This Product!
Help other WP Supplies users shop smarter by writing reviews for products you have purchased.
Others Also Bought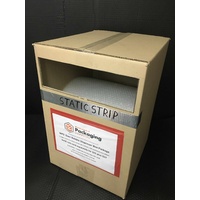 $10.00
More From This Category