Whether you are an online e-commerce business or a distributor or retailer, you wish to have your packages reach their destination safely, without getting dirty or scattered during transit. Our selection of low density and high-density plastic pallet covers and pallets caps are the best pallet protective covers in Australia.
Read More

At WP Supplies, we strive and achieve to deliver the best packaging solution at low prices, supported by a highly experienced team that knows about the need of the industry and other business owners. Hence, we source our pallet covers and pallet caps from reputed and trusted sources, so you can ensure your product packaged pallets are covered to weather the natural elements and remain dirt-free. The product packaging does not get damaged during storage and transportation.

Contact the WP Supplies team to discuss your requirements. We offer all pallet caps and pallet covers in Australia at wholesale trade prices, and if you find any other vendor with a lower price, we offer a price match guarantee!

Plastic Pallet Caps

With WP Supplies as your trusted packaging product supplier, you can be assured of the highest standard products that are high in quality and low on price. As wholesale dealers of plastic pallet caps and pallets covers, we have what you need to ensure your products are packaged safely and remain so from leaving your location until they reach their target location.

The high-density plastic pallet caps come in a long perforated roll that is convenient to use and have the quality that can withstand long transits and multiple movements. We are always adding more products to our growing list of items. If you wish to find specific plastic pallet caps in different colours, thicknesses and manufactured for particular industries, we request you to connect with a highly experienced team to discuss your needs.

Explore our range of pallet covers and plastic pallet caps from your local packaging supplies leader. We offer a price match guarantee and have a highly trained, skilled and knowledgeable customer support team to guide you to make the best choice for your requirements.
Image shown is of a low density plastic cap. High density plastic is similar to fruit and vegetable bags the supermarkets use.
(CAPS)
Be The First To Review This Product!
Help other WP Supplies users shop smarter by writing reviews for products you have purchased.
Others Also Bought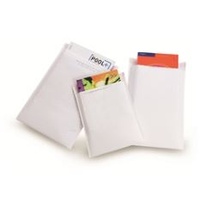 From $77.46
More From This Category